Full-Frame Mirrorless Cameras List
In digital photography and videography the current trend is clearly shifting in the direction of full-frame mirrorless interchangeable-lens cameras. Mirrorless interchangeble-lens cameras are often abbreviated as DSLM (Digital Single Lens Mirrorless). As the technology gets cheaper the digital cameras with full-frame sensors become affordable to broader masses of amateurs and professionals.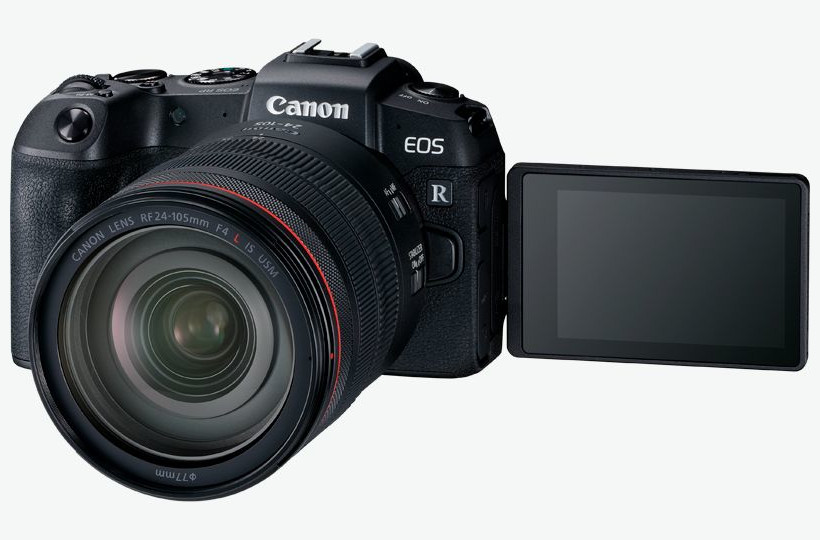 Probably the most popular mirrorless full-frame camera – Canon EOS RP.
A full-frame mirrorless camera is a mirrorless interchangeable-lens camera with a digital sensor the same size as 35mm format (36mm × 24mm) film. Full-frame mirrorless cameras unite advantages of two worlds: the mirrorless form-factor (that became popular in cameras with smaller crop sensors) and the full-frame sensor size (previously available only on DSLRs). Compared to full-frame DSLRs (digital single-lens reflex cameras) mirrorless full-frame cameras are smaller in size, have less weight, some models with electronic shutter can take pictures almost silently. Compared to mirrorless cameras with smaller micro four thirds and APS-C sensors, full-frame mirrorless cameras can contain more megapixels on their (bigger) sensors and hence have the greater amount of detail that can be captured in a picture. Often, but not always, full-frame sensors can better perform in low light conditions.
Below are the lists of all known mirrorless full-frame cameras, sorted by the brands like Canon, Sony, Panasonic or Nikon. There are rumors that other, not listed here, photo companies and brands are willing to enter the full-frame mirrorless camera market in the near future.
Canon Full-Frame Mirrorless Cameras
Canon EOS Ra
The Canon EOS R is a 30.1 megapixel full-frame mirrorless interchangeable-lens camera launched by Canon in October 2018. It is the first camera to use Canon's new RF lens mount. Canon continued their line of full-frame mirrorless cameras by launching the Canon EOS RP with a 26.2 megapixel sensor in February 2019.
Sony Full-Frame Mirrorless Cameras
Panasonic Full-Frame Mirrorless Cameras
In September 2018, Panasonic unveiled two new mirrorless full-frame cameras with the newly developed 35mm full-frame sensor. The Lumix S1R and S1 are the world's first cameras equipped with both a 4K 60p video recording function and a Dual I.S. Image stabilization system. The new full-frame sensor of the Lumix S1R provide an impressive 47 megapixel resolution and 24 megapixels in the Lumix S1.
Nikon Full-Frame Mirrorless Cameras
Nikon Z 6 (aka Nikon Z6)
Nikon Z 7 (aka Nikon Z7)
The Nikon Z 7 is a 45.7 megapixel full-frame mirrorless interchangeable-lens camera that was officially announced on August 23, 2018, for release in September 2018. It was the first camera to use Nikon's new Z-mount system; the second model, released in November 2018, was the 24.5 megapixel Nikon Z 6.
Leica Full-Frame Mirrorless Cameras
Leica M (Typ 240)
Leica M (Typ 262)
Leica SL
Leica SL (Typ 601)