How to Check Shutter Count on Panasonic Lumix G7/G70
In this article you will learn how to read the shutter count of the Panasonic Lumix DMC-G7 mirrorless camera. In Germany, Austria and Switzerland the camera is known under the name Panasonic Lumix DMC-G70. Panasonic, comparing to some other digital camera manufacturers, is doing a great job by allowing its users to simply access this kind of internal information via a service menu.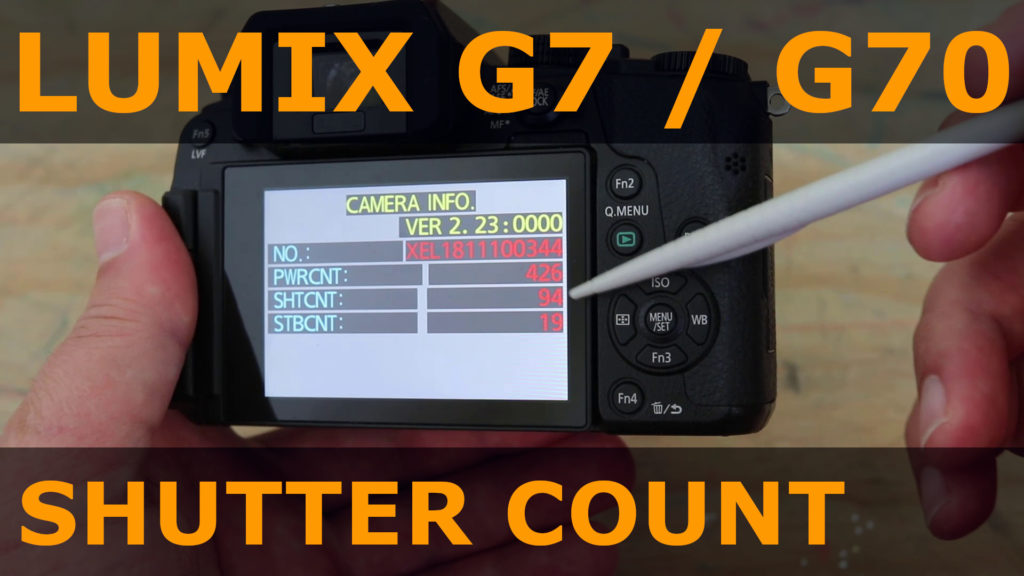 With your camera's battery well charged, perform the following steps in sequence:
Insert a SD memory card into the card slot of the camera.
Press and hold simultaneously the DISPLAY, AF/AE LOCK and RIGHT CURSOR buttons, while turning the camera ON.
Now, press and hold the AF/AE LOCK button together with the MENU/SET and LEFT CURSOR buttons.
Repeat the last step, that is press and hold the AF/AE LOCK button while pressing the MENU/SET and LEFT CURSOR buttons. A two-page operation history display will appear.
Press DISPLAY to toggle between the two information menus.
Take note of the following numbers:

The number next to PWRCNT is how many times the camera has been powered up.
The number next to SHTCNT is the shutter actuations count.
The number next to STBCNT is the number of times the flash has fired.

Switch the camera off to revert back to normal operating mode. Congratulations, you have successfully retrieved the shutter actuations information!
Now when you know the shutter count of your Lumix G7 (G70), you can estimate how many shutter actuation are left until it will show some wear. The exact number of the Panasonic Lumix G7 (G70) shutter is estimated at 100.000 actuations. But take this number with a grain of salt. It applied only to the mechanical shutter actuations. Panasonic Lumix G7 (G70) also features an electronic shutter that can be activated in the camera's setting by switching into the "silent mode". Those "silent" shutter actuation are NOT added up to the shutter count number (SHTCNT) as they do not contribute to the wear of the mechanical shutter.
To preserve the mechanical shutter of your G7/G70 you can take pictures primarily with the electronic shutter in the "silent mode". Despite its very silent operation, this mode has a few limitations that you should be aware of. The electronic shutter cannot use exposures longer than 1″ (one second), but can go as fast as 1/16000 compared to 1/4000 mechanical shutter. The internal flash cannot be used together with the electronic shutter. Expect your bokeh to be a bit less blurry when using the electronic shutter. I personally use my G7 primarily in the silent mode and switching it sometimes into the normal mode when for example I need to use the flash.
The following instructional video will guide you through the process of reading the shutter counter of your Panasonic Lumix G7 / G70: