Smartphones With Dual Pixel Autofocus
The Dual Pixel Autofocus (DPAF) technology isn't new – it has already been featured in many DSLR and mirrorless camera sensors. In essence, the dual pixel autofocus (also called Dual Pixel AF or Dual Pixel PDAF) is an advanced case of the phase detection autofocus (PDAF). With PDAF only about 5 % of the available pixels were part of focusing. However in the dual pixel focusing, a phase detection photo diode is embedded into each and every pixel on the camera sensor.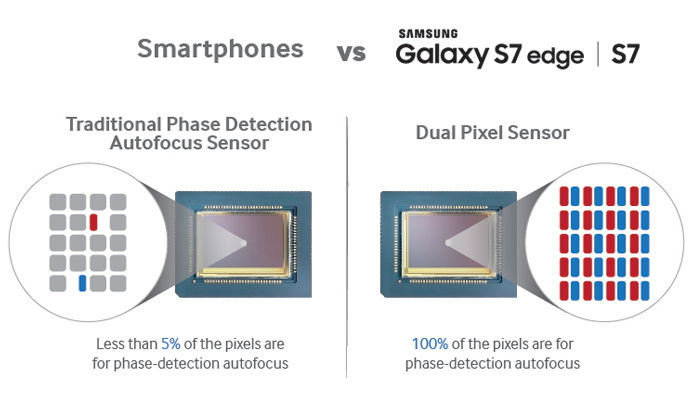 Samsung introduces Dual Pixel PDAF in their Galaxy S7 and S7 edge mobiles.
Back in 2016 Samsung was the first company among phone manufacturers to introduce the dual pixel autofocus technology in their smartphone models Samsung Galaxy S7 and Samsung Galaxy S7 Edge. Since then many companies have followed. Apple's iPhones notoriously do not feature cameras with the dual pixel autofocus technology. iPhones since the iPhone 6 use less advanced phase detection autofocus branded as "focus pixels". Samsung was the first to introduce the dual pixel AF for the front / selfie camera in their Samsung Galaxy S10 phones line.
Following is the list of all known dual pixel autofocus phones. The list of dual pixel autofocus mobiles is sorted alphabetically by brand names. Within each brand the phones are sorted by their release date in the descending order (newest models first).
Archos Diamond Omega
Asus ZenFone 4 Selfie Pro ZD552KL
BQ Aquaris X2
BQ Aquaris X2 Pro
LG V50 ThinQ 5G
Meizu Note 8
Meizu 15
Nokia 8.1 aka Nokia X7
Realme 3 Pro (Realme X Lite in China)
Samsung Galaxy S10 5G (main & front cameras)
Samsung Galaxy S10 (main & front cameras)
Samsung Galaxy S10e (main & front cameras)
Samsung Galaxy S10+ (main & front cameras)
Samsung Galaxy Note7
Sharp Aquos S3 High
Sharp Aquos S2
Sony Xperia 1 (aka Sony Xperia XZ4)
vivo V15
vivo V11 (V11 Pro)
vivo X23
vivo NEX A
vivo X21i
vivo X21 UD
vivo Xplay7
Wiko View2 Pro
Xiaomi Mi Mix 3 5G
Xiaomi Black Shark Helo
Xiaomi Mi 8 Explorer
Xiaomi Mi 8 SE
Xiaomi Redmi Note 5 (Redmi 5 Plus in China)
ZTE Axon 9 Pro
ZTE nubia Z18
This list of smartphones with the dual pixel AF technology is not yet complete. Please, feel free to suggest a missing phone model in the comment section below and after a quick check the phone will be added to the list.
You might also want to check out my list of the dual pixel autofocus Canon cameras.