Penta is a relatively new fintech company, with its headquarters located in Berlin, Germany that offers free and paid business bank accounts to German and partially European companies. Officially, it's not a bank – it leverages the banking infrastructure of their partner solarisBank AG, which possesses a German banking license. The official Penta homepage is called GetPenta.com. The title of this article is a play on words.
As a CEO of my company Freeware Lovers GmbH, among other things, I have to take care of the costs optimization of the company's operations. As one of the measures we switched from paid business bank accounts to a free one long time ago. Ever since this shift we have been saving some 5 to 10 Euros per month. During the recent years our main business bank account was provided by the Fidor Bank AG with the headquarters in Munich, Germany. Fidor had some limitation but it was just enough to process our financial transactions and it was absolutely for FREE. In August 2019 they announced (in a sneaky way) that they will be imposing a monthly fee of 5€ starting from November 2019 to all free bank accounts and by doing so inspired us to search for another bank to host our main account. The way how Fidor imposed the fees was not OK and I'll make sure to take time and write about this bank in more details in the near future.
We ended up opening a FREE business bank account (the plan is called "Basic") in October 2019 at Penta with the hope to make it the main business bank account for our company. The bank account opening experience was rather smooth, I have to give a credit to Penta for this. The only special thing here is that if your company has several founders or beneficiaries, then every single person has to pass the identity verification process and will be stored somewhere in the bank account's properties. In case of our company Freeware Lovers GmbH there are two co-founders – me and my brother Vladislav Tamrazyan. So, we both passed the quick video identification process and the account was ready to use short afterwards. I didn't use very much the Penta account since the opening, but today, before completely quitting the Fidor account, I wanted to take a closer look at Penta free basic bank account's features.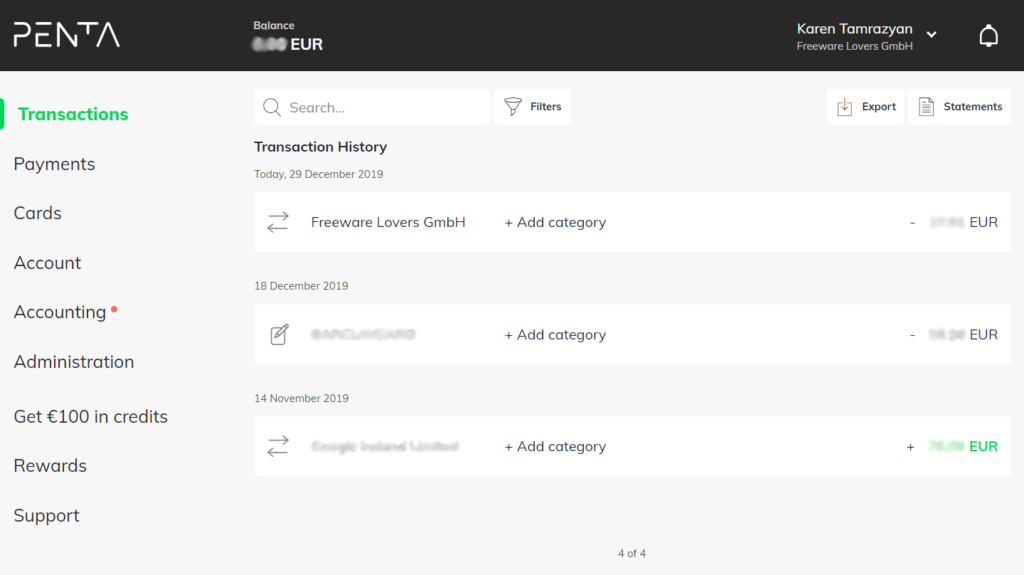 This is how the Penta's bank account cockpit looks like.
Going through the account interface I went to the "Administration" section. In the Administration section you can set up different bank account properties. At some point I landed at the "Users" pane. As you can see from the screenshot below I'm currently the only user of this bank account. As I mentioned before our company has two co-founders, who effectively are both company's CEOs. So, let's try out this green "Add a User" button. Can we add another co-founder to this bank account to provide both of us with an equal access to the company finances?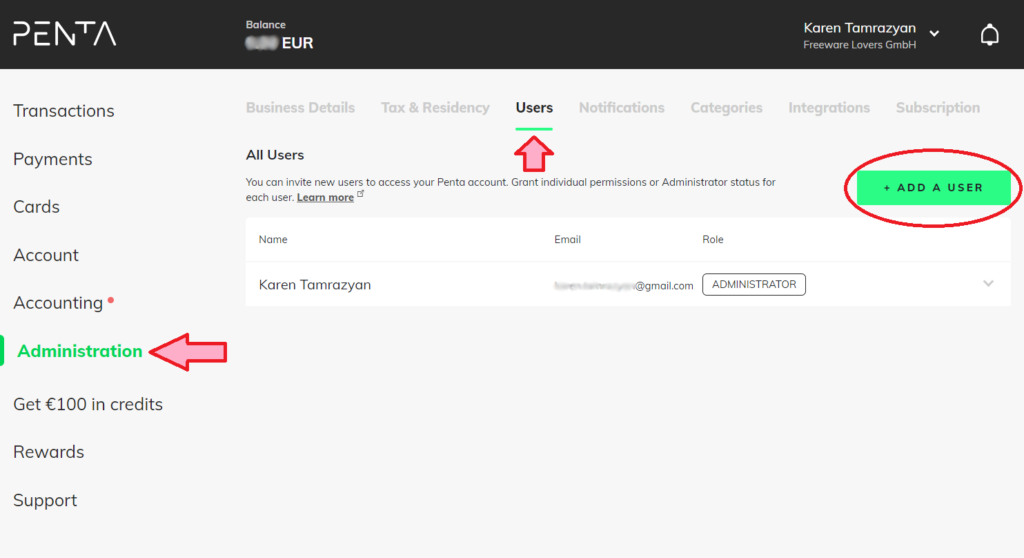 As I clicked the "Add a User" button a small dialogue window popped up where I could add a completely new user to the account or add my co-founder, who was already conveniently listed in this dialogue window. Sure, my co-founder was already known to the system after passing the identity check, which are mandatory at Penta for companies with multiple beneficiaries. This requirement is not very common as I didn't experience it with other banks like Fidor Bank or N26 Bank.
Anyway, I was really very pleased that the co-founder was already conveniently listed there. So, I went further and added him to the user list with the admin rights. I swear to God that I didn't see any warning or notification that this action may have some implications on the bank account other than a new user. I only remember that there was an option to order a second bank card at the same time for the new user, which I opted out or didn't check at that moment. What I didn't know is that their basic plan only includes one user slot, which is already assigned to you. Addition of any new users will cause your plan to be automatically upgraded to the PAID one, called "Advanced" that will cost you 9 Euros per month! Think about it, you just change some settings and whoop, you are a paying customer now! Nice trick Penta, really. To understand what just have happened you will need to switch to the "Subscription" pane in the "Administration" section.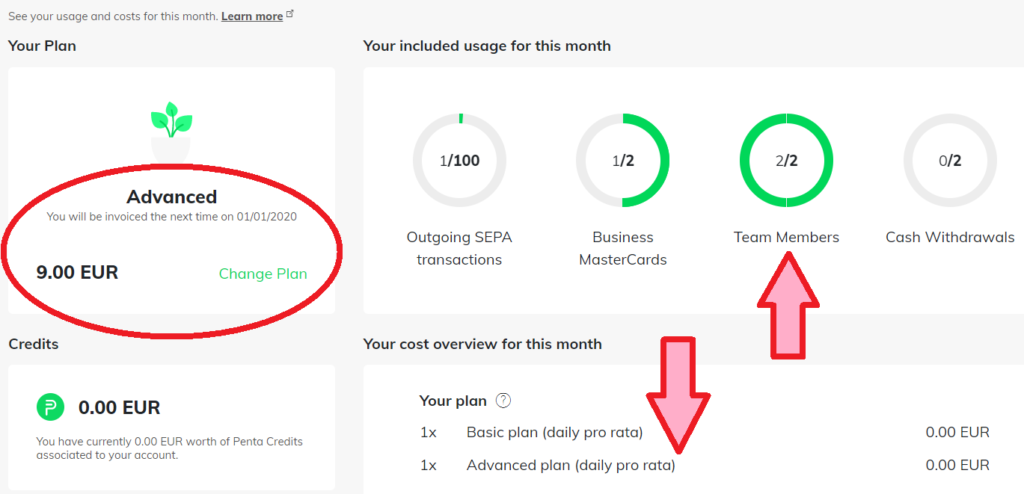 "Administration" → "Subscription" view of the Penta bank account.
On the "Subscription" pane you'll be surprised to discover that in a blink of an eye you've upgraded your plan to a paid one. Congratulations! I hear you saying: "OMG, what have I done! It was not intentional, I should immediately downgrade it back to the basic plan!" Great idea. This is what I thought too. To downgrade you'll need to go back to the "Users" pane and remove the second user. Then go again back to the Subscription pane and in the field called "Your Plan" click that "Change Plan" button. In the pop up dialogue window proceed and downgrade the plan. Once the plan downgrade is confirmed you will be surprised to discover that the actual "Advanced" plan is still ongoing. But how? Why? Well, here comes the Penta's second dirty trick. Plans can be upgraded immediately, but downgraded only at the beginning of the next month! Amazing, right?
I really wish that I would have made a screenshot when I was adding the second user. But for some reason I didn't. I trusted Penta. Now when I'm thinking about it, I would not even rule out the chance that there was a small tiny warning text notification that says something like "by doing it you are agreeing to our terms and prices" bla-bla. However, I'm pretty sure that I would have noticed this. My eyes trained stained with 20+ years of watching at monitors would surely not miss that. After removing the second user and downgrading the plan (which will take effect only by the end of the current month) and writing an email to the Penta's support I took a short 1 hour break. After the break I went to the Users pane and wanted to see if there was actually some notification when you try to add a new user (again).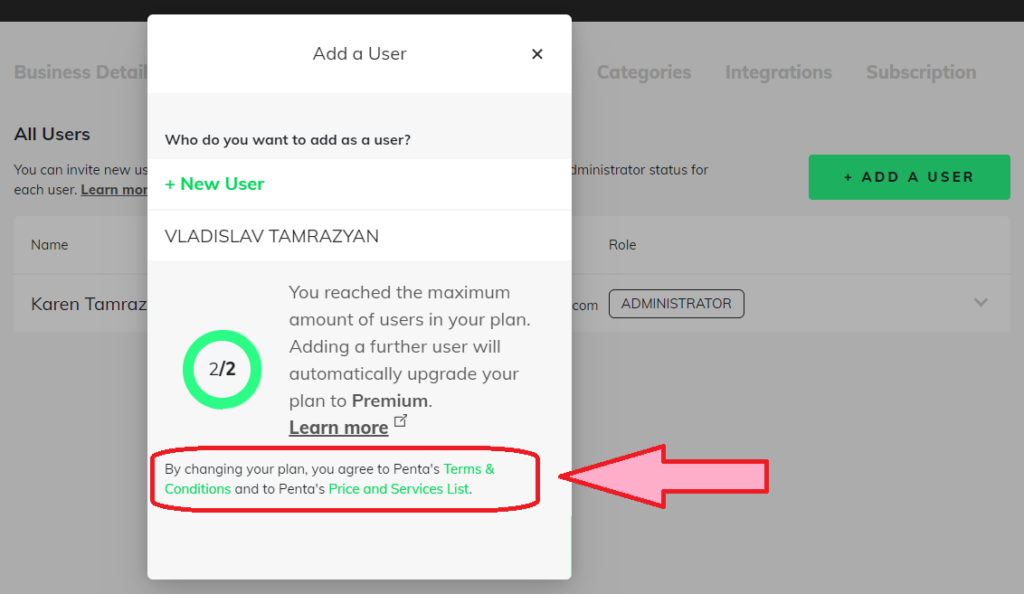 This pesky Terms & Conditions and Prices mention.
Sure enough, now there IS a mention of Penta's Terms&Conditions and also the Prices! Was it there the first time too or was it added just a few moments ago? I cannot say for sure. OK, OK, you can blame it on me! Then let's proceed and click on those two links of Terms & Conditions and also the Price and Service List. This is what the server returned to me in both cases: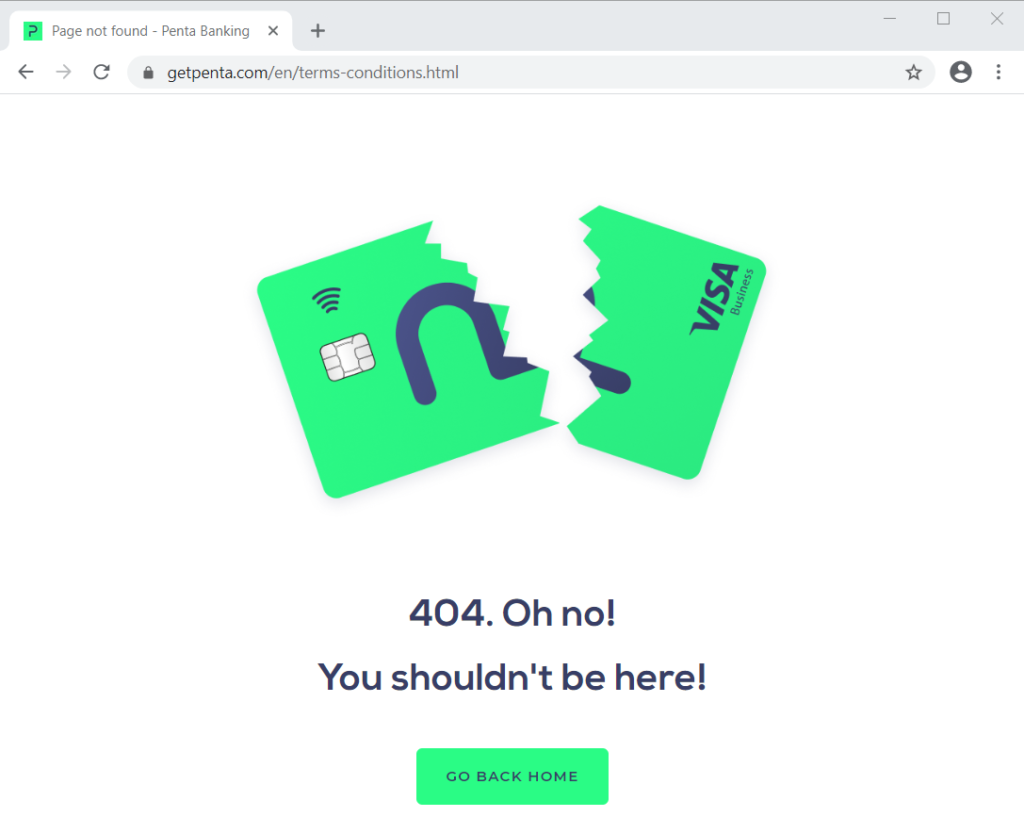 Penta's Terms & Conditions not found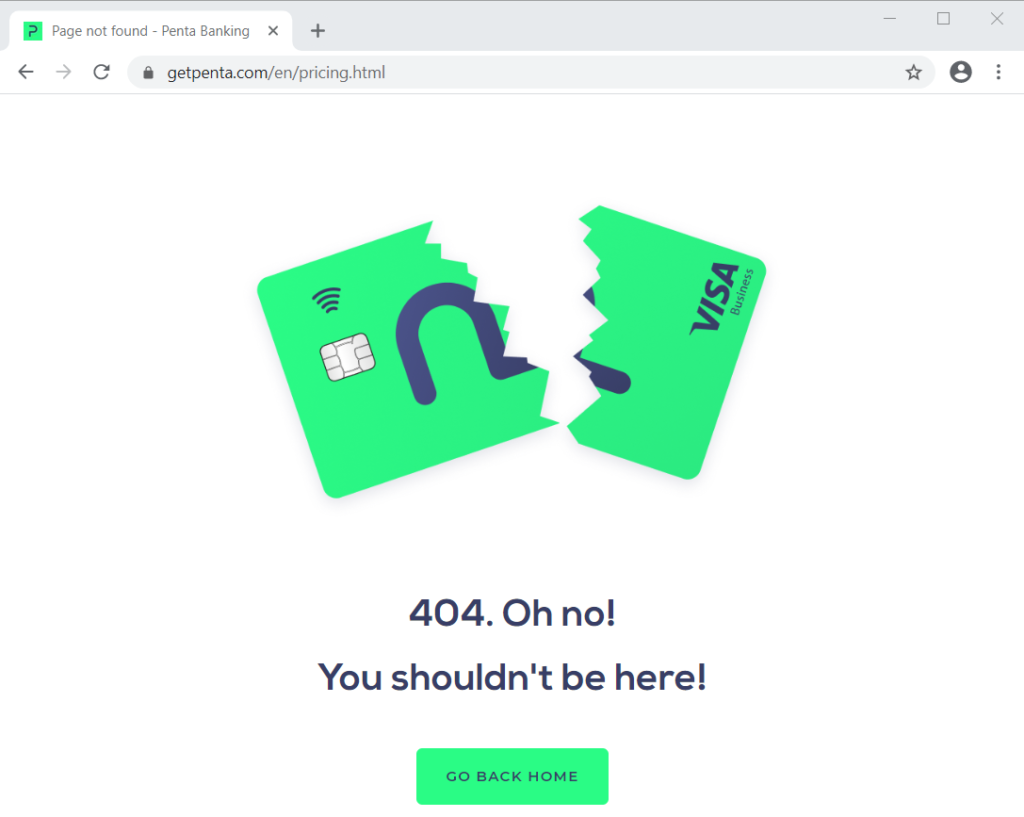 Penta's Pricing not found
That's a double win, my friends. At first they obscure the fact that by clicking the "New User" button you will agree on all imaginable conditions they put into their legal papers. At second, for those smart asses who actually crazy enough to go and read those papers, the links will be broken. And once you are in the trap the next stop out of it will be by the end of the current month. Doesn't it smell fishy? To me it does!
Frustrated and annoyed by this whole thing I wrote the following tweet: "Having a terrible experience with @getpenta. Being on their free "Basic plan" tried to add a 2nd admin person (aka "team member") to the account, what turned the account to the PAID "ADVANCED PLAN" without even asking! What a scam! Will write a longer piece on that. #ByeByePenta".
Having a terrible experience with @getpenta. Being on their free "Basic plan" tried to add a 2nd admin person (aka "team member") to the account, what turned the account to the PAID "ADVANCED PLAN" without even asking! What a scam! Will write a longer piece on that. #ByeByePenta pic.twitter.com/6hTuslVsIL

— Karen Tamrazyan (@KarenTamrazyan) December 29, 2019
</div>Tweet about the experience and frustration with Penta's questionable practices. Surprisingly, folks from the official Penta account at Twitter quickly responded to my tweet: "Hi Karen, you are spot on. It's not as clear as we intend it to be. We are sorry about this. We are releasing a significant improvement in our next release." On the base of the described here experience I was already a lost customer to Penta, but this reply caught my attention. In this kind of situation a smart company would need to do 3 things:
Recognize and apologize for the controversy
Make good to the customer in a form of reverting the situation back to the initial
Fix the problem as soon as possible so that another customers won't fall into this trap
[Bonus] Learn from the situation
What Penta did with the tweet above is the first step into the right direction. Later that day I also discovered that they credited our bank account with 9 Euros worth of "Penta Credits", which will effectively neutralize the bill caused by the plan upgrade. This is the second step into the right direction. They also promised in their tweets that the controversy will be fixed in the upcoming software release. Hopefully, this will prevent other users from falling into this trap. Will they learn from this situation and will they stay away in the future from tricking their free customers into the paid ones without their will? We will see.
Summarizing the post, after all these would I recommend to get a bank account for your business at Penta or not? I would say give it a try and see for yourself. Everyone can make a mistake, but what counts even more is the reaction to the mistake. The reaction (on twitter, emails seem to work not as fast) was very good so far, what definitely deserves a second chance. As of now we are retaining our business bank account at Penta. In case if any significant changes will happen, they will be posted here as updates.
---
Email Exchange with Penta's Support
My first email to them, written on December 29, 2019 at 5:35 PM CET:
Hello!

I didn't want to UPGRADE our Penta plan!!!! Herewith I cancel ANY UPGRADES IMMEDIATELY!!! I just tried to add a second used [sic] to the bank account, because the web interface was looking like you could do this while staying in the free basic plan. Doing so turned out to AUTOMATICALLY UPGRADE THE PLAN WITHOUT A SINGLE WARNING OR A NOTIFICATION!!! That is very dirty what you do there! IMMEDIATELY DOWNGRADE OUR PLAN BACK TO BASIC! We will not pay and will dispute any imposed costs caused by this kind of dirty tricks that you play on your customers.

Best regards
Karen Tamrazyan
On December 30, 2019 at 9:50 AM CET they wrote back:
Hello Karen,
​
Thank you very much for your inquiry and please excuse the inconvenience.

Our website has been designed in such a way that, in situations like these before you add a second user, a notification will appear informing our customers that the given action will result in a change of plan. I have added a screenshot of this notification to the email attachment.

Concerning the fees for the Advanced Plan, I have credited 9 EUR Penta Credits to your account. What exactly does that mean? The amount for the Advanced Plan will be deducted from your Penta Credits and you will not be charged directly.

You have downgraded to the Basic Plan and it will be active in next month. However, you don't have to worry about the invoice, as described I have added to your account Penta Credits which will cover for the costs.

In order for the downgrade to take place in the next month, please make sure that you have removed the user in the Menu section "Administration" – "Users".

If you have any further questions, please do not hesitate to contact me. Happy new year and wish you all the best.

Friendly greetings,

Darko
Customer Relations Manager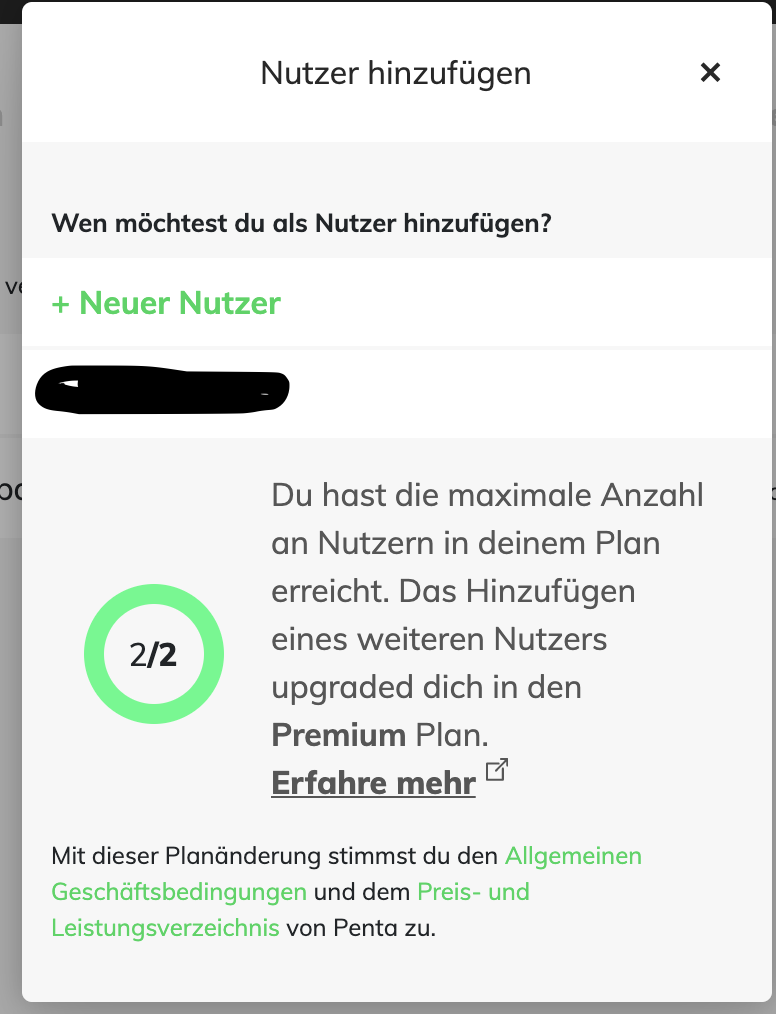 The screenshot that was attached to the Darko's email.</div>I answered to the Darko's email on December 30, 2019 at 10:21 AM CET with the following text:
Hi Darko,

I broke down my recent not-so-pleasant experience with Penta in this blog post yesterday evening: /dont-get-penta/

To your point, the screenshot you sent to me is not from a basic plan and doesn't exactly reflects the interface that I saw when accidentally upgraded the plan from basic to advanced by adding a second user. Unfortunately, I didn't make a screenshot myself while I was adding a user back then.

All in all, I still think that the way it works now is not satisfactory. The pain points are listed in my blog post. Pity that you see it differently. The reaction of your social media team (Twitter exchange) was WAY more constructive and would retain me as a customer. Your reaction won't.

Best regards,
Karen
On December 30, 2019 at 11:08 AM CET they responded:
Hello Karen,
​
thanks for your reply and sorry to hear about the bad experience and I am sorry for any misunderstanding regarding my previous response. The mentioned notification should be appearing for all users, however as this has not been the case with your account I have forwarded this to our Tech Team to fix this issue and prevent such for any other users also.
​
Also I will forward your feedback and Blog Post to our Product Team so the whole experience when adding secondary users is more transparent and other customers in future wont have the same experience as you had with Penta. Such changes should actually be confirmed with a YES or NO Button in the end of such process when adding a secondary user. Thanks for your feedback we appreciate it very much.

As for the Advanced Plan costs for December, you do not need to worry as the amount will be charged from the added Penta Credits.
​
I am really sorry for the inconveniences and bad experience you had. If you doi [sic] have any further questions or feedback, please do not hesitate to contact us.
​
Wish you a happy new year.
​
Kind regards,

Darko
Customer Relations Manager
Update from February 2020
I haven't used the Penta account since the described in this article incident. On February 28, 2020 I logged in again and were checking out the interface of their updated banking interface. In the "Accounting" section I clicked the link "export data", what automatically and without any confirmation turned my free "basic" plan into a paid "advanced" plan! 🤦‍♂️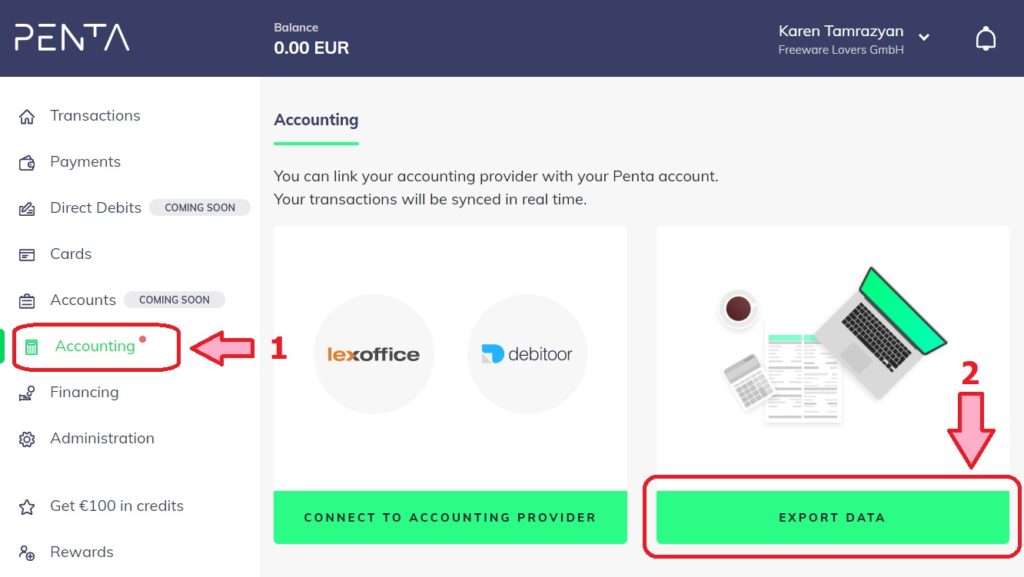 Clicking the "export data" link will immediately turn your free plan into a paid one. Now, it doesn't look unintentional anymore. It seems to me that this kind of behavior just belongs to Penta's strategy of turning free / basic users into paid ones. I find this kind of behavior HIGHLY UNETHICAL. Thus, I cannot recommend anyone who want to keep a free business bank account to use Penta's basic plan.
---
About the Author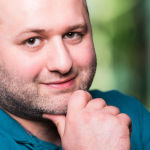 Karen Tamrazyan is an entrepreneur, open-source advocate and web & mobile apps enthusiast. In his free time he finds joy and happiness in every little thing together with his family and friends. Karen is a passionate blogger and author, who is eager to learn new stuff and share his knowledge.