Free Business Bank Account in Germany
Are you in the process of founding your own startup in Germany and for this reason need a business bank account? Or do you run an established company but paying too much to your current bank? As every entrepreneur you should be interested to cut your costs and thus increase your profit. In this article you will learn the best practices when it comes to opening a free online business bank account in Germany. Sometimes this kinds of accounts are also called corporate accounts or business checking accounts.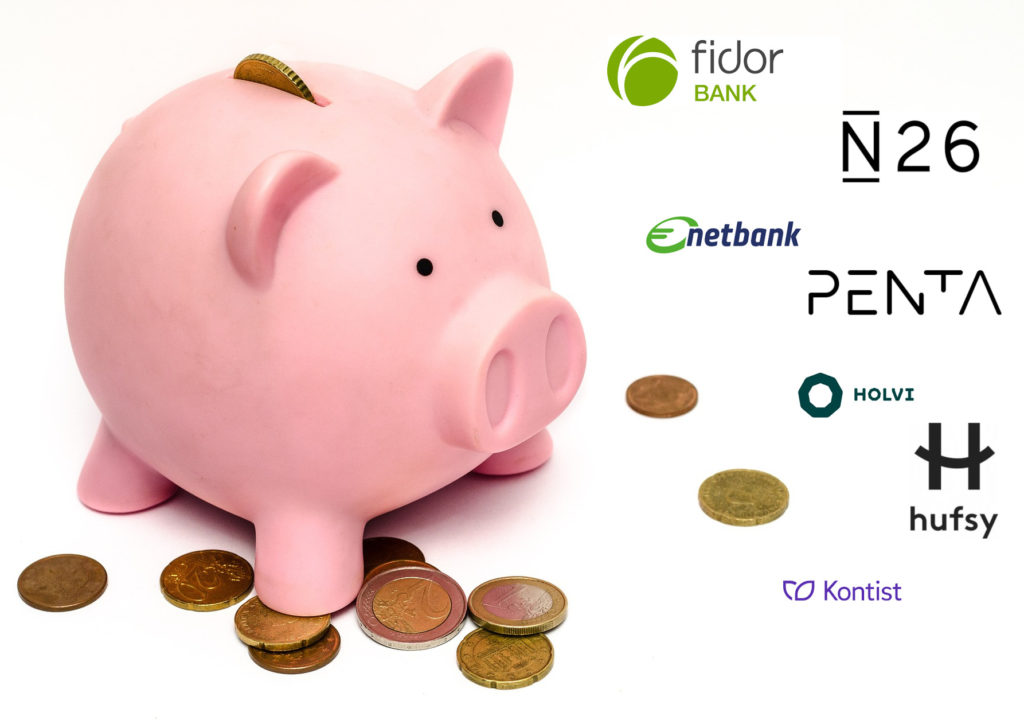 Business vs Personal Bank Account
What is the difference between personal ("Girokonto") and business ("Geschäftskonto") bank accounts and why can't I use a personal bank account to run my company? The actual difference is not always obvious. Sometimes the same bank provides both personal and business bank accounts that have similar attributes. But, generally speaking, it is assumed that a business bank account is utilized more heavily than any personal bank account, thus causing more load to the bank. Let's say you run an online shop and sell 10 items a day. As a payment method you can offer a wire transfer to your bank account. This alone will cause 10 transaction a day that your bank have to process. Normally, private people are not using their bank accounts that heavy. So, on average, a business bank account causes more expenses to the bank to keep it running and as a result it is often more expensive than a private bank account.
Private bank accounts in Germany can be opened and maintained for FREE at many banks already for at least a dozen of years if not longer. Basically, if you have a private bank account in Germany and pay for its operation then you are wasting your money. Some banks will impose a monthly minimal incoming limit of money (e.g. ~300-700€) to keep it free, when some other banks will provide you an absolutely FREE personal bank account without any special conditions. With business or corporate bank accounts in Germany the situation was completely different! About some 10 years ago it was not so easy to get a business bank account at no cost. If you were lucky to get one, then there would be many strict conditions how to keep it free and in case of any deviation you'll quickly be asked to pay a fee. The situation has started to change within the last ~5 or so years with the rise of fintech startups.
Why do you need a business bank account or can you use a personal checking account to run your business? It depends very much on the type of your business. If you are self-employed ("selbständig" in German) or a freelancer ("Freiberufler" in German), then in most of the cases your personal bank account should be sufficient. At least the local financial authorities will not demand from you to open a separate business account. Another thing is the bank. If you are planning to heavily (ab)use your personal bank account to run e.g. an online shop and collect a lot of payments on your account, then the bank might demand at some point to upgrage your bank account to a higher plan or to a business account.
Another story if you run your business as a separate juridical person / legal entity in a corporation form of e.g. GmbH ("Gesellschaft mit beschränkter Haftung"), UG ("Unternehmergesellschaft"), AG ("Aktiengesellschaft"), Ltd (private company limited by shares) and so forth. In this case you must open a separate business / corporate bank account for your company.
1. N26
N26 is a german online bank, founded in 2013 and headquartered in Berlin, that offers its services throughout most of the Eurozone and in the UK. N26 has a basic business bank account with no monthly fee, charges no fees for basic banking transactions or credit card payments in foreign currencies. Cash withdrawals in Euros are also free of charge. N26 provides a free Debit MasterCard to all of their customers, as well as a Maestro card for their customers in Germany and the Netherlands. Proceed here to register a FREE business bank account at N26.
2. Penta
Penta is a digital bank account for startups and small to medium-sized businesses in Germany. Founded in 2016, Berlin-based Penta has already raised over €9 million, and counts more than 5,500 digital businesses as clients including AirHelp, bepro11 and Global Digital Women as customers. Their "Basic" plan is absolutely FREE and includes 50 free outgoing SEPA transactions and a free business Mastercard. Proceed here to open a FREE "Basic" business account at Penta.
You might also find interesting to read about our controversial experience with Penta in the article "Don't Get Penta". Despite the name of the article, we would still recommend to consider this bank for your company's business bank account. They seem to learn from mistakes.
3. Holvi
Holvi is a finnish online bank that was founded in 2011 and based in Helsinki, Finland. Their basic plan with the name "builder" is absolutely FREE and include one Mastercard at no additional cost. The only thing you should take care about is that all cash withdrawals are "penalized" by a 2.5% withdrawal fee. Thus, if you want to get cash for free, then send it first via a bank transfer to another bank, where the withdrawals are free. Proceed here to open a FREE "builder" business account at Holvi.
4. Hufsy
Hufsy is a danish online bank that was founded in 2015 and based in Copenhagen, Denmark. Hufsy offers a bank account customized for startups. It helps you with all your finances, so you can do more business and less banking. The FREE "Basis" plan includes unlimited free transactions, business Mastercard Debit, 3 free cash withdrawals per month, no currency exchange fee when paying in currencies other than Euro. Proceed here to open a FREE "Basis" business account at Hufsy.
5. Netbank
Netbank was founded in 1998 and is based in Hamburg, Germany. The company offers, among other things, business checking accounts. Their FREE plan "Basic" includes 15 free money transactions per month and 1 free cash withdrawal per month. Cash withdrawals are possible with a business Mastercard Debit, which is unfortunately not free and will cost 10€ per year. Proceed here to open a FREE "Basic" business account at Netbank.
6. Fidor Bank
Fidor Bank is one of the first "digital only" banks in Germany. It was founded in 2009 and is headquartered in Munich. In July 2016, it was announced that Fidor Bank was being acquired by France's Groupe BPCE for an undisclosed amount. Nevertheless, Fidor Bank continues to operate under its own branding. Fidor provides an absolutely FREE business checking account. Mastercard is optional and non-free. Proceed here to register a FREE business bank account at Fidor.
Update: Fidor is not as attractive anymore as they have changed their rules from 1 January 2020 to limit free business account to only 10 transactions a month. We do not recommend Fidor Bank anymore and closed our own accounts with this bank.
7. Kontist
Founded in 2016, Berlin-based fintech startup Kontist makes finances easy with paperless bank account opening, mobile banking and more. Their "Kontist Free" plan is absoltely free and includes free SEPA money transfers and a virtual Mastercard. Proceed here to open a FREE "Kontist Free" business account.
Update: Kontist should be deleted from this list as they do not provide free bank accounts to legal companies like GmbH, UG or Ltd. They only offer free accounts to self employed individuals or freelancers ("Freiberufler").
---
All in all, it is a great time for startups and small businesses. There have never been such a great choice of FREE business bank accounts in Germany. A good advice would be to open at least two accounts with different banks for the sake of diversification. Please, use the comment section below to share your experience and tips.