Freebies at Embedded World 2018
Embedded World trade show in Nuremberg is one of the world's biggest exhibitions and conferences focused on embedded technologies and Internet of Things (IoT). The expo occurs annually and this year it will go from 27 February until 1 March 2018. The opening times are 09:00 – 18:00 (27 and 28 February) and 09:00 – 17:00 (1 March). The entrance ticket is also free and can be obrained with the voucher code "ew18web" or by simply following this link.

There are many interesting things going on the trade fair, like speeches, workshops, and networking events. It's a must visit for members of the maker community, at least those who are living nearby. In this post, I want to solely concentrate on the freebies, which one can obtain during the trade show. Embedded World 2018 lasts for 3 days and the best chances to grab freebies are on the first day.
Trinamic
Trinamic provides motor and motion control solutions. At their booth they freely distribute motor controller boards for different motor types. If you need one, then follow the instructions of this tweet.
Update from 27 Feb: I was able to get one board at their booth without pre-registration. So, ask politely and maybe you will get one.
Location: Hall 3, Booth 511
Website: Trinamic @ EW2018
Mouser Electronics
Mouser has a lot of giveaways each year. There is a good chance to win one of many development boards by playing a free lottery the spin of fortune game at their booth. Aside from that, they have a lot of smaller freebies, like cups and back scratchers 🙂 On their website, there is also an online registration form to participate in an online lottery with the following dev boards as prizes: Digi International Xbee SX 868 Development Kit, Infineon AURIXô Application Kit, Linear Technology/Analog Devices DC1962C-KIT Starter Kit, Maxim Integrated MAXREFDES100 Health Sensor Platform, Microchip PIC32MZ Embedded Graphics Starter Kit, NXP Semiconductors QN9080DK Development Kit, On Semiconductor IoT Development Kit Bundle, Renesas Synergy DK-S124 Development Kit, Silicon Labs Giant Gecko GG11 Starter Kit, STMicroelectronics STM32F769I-EVAL Evaluation Board, Texas Instruments CapTIvateô Development Kit Bundle.
Location: Hall 3A, Booth 111
Website: Mouser @ EW2018
OpenSystems Media
Grab a free T-Shirt and get a chance to win a free dev board.
Location: Hall 3A, Booth 507
Website: OpenSystems @ EW2018
Espressif Systems
Espressif is the manufacturer of highly popular within the maker community ESP8266 and ESP32 series of SoCs. They are participating for the first time at this expo with rather a small booth. But don't be fooled, their boards are amazing. Just ask politely and the chances are high that you'll get an ESP32 dev board.
Update from 27 Feb: Confirmed! And yes, make sure to check out their mesh network simulation demo, it is impressif!
Location: Hall 3A, Booth 623
Website: Espressif @ EW2018
ST
ST is traditionally giving away a lot of their STM32 dev boards. This time they have: Nucleo-H743ZI, Nucleo-F413ZH, Nucleo-F767ZI, Nucleo-L4R5ZI, Nucleo-F303RE, Nucleo-L476RG, Nucleo-F401RE, Nucleo-L432KC, Nucleo-L073RZ, Nucleo-L031K6, X-NUCLEO-NFC04A1, X-NUCLEO-NFC05A1. If you are overwhelmed and don't know which one to choose, then here is my advice – two boards NUCLEO-H743ZI and NUCLEO-F767ZI have the most value.
Update from 27 Feb: They changed the procedure this year. Before, one used to register on their website in advance and then pick up the boards in their booth. Now no pre-registration is required. Just visit the booth, scan your badge and you will receive an email with instructions on how to proceed. The board will be sent eventually to your address per snail mail.
Location: Hall 4A, Booths 138 & 238
Website: ST @ EW2018
Cypress
Cypress didn't communicate that they will be distributing freebies, but as experience shows they normally have free dev kits as giveaways. Definitely worth a check.
Update from 27 Feb: Confirmed! At least PSoC 4 boards are there. With a little bit of luck maybe other boards are also possible.
Location: Hall 4A, Booth 148
Website: Cypress @ EW2018
Arrow
Arrow is an electronics online store. According to their flyer, they will be distributing about 5,000 dev boards for free! Just approach them and ask for one. Be prepared that they'll ask why you need a board 🙂
Location: Hall 4A, Booth 340
Website: Arrow @ EW2018 & PDF flyer
DigiKey
DigiKey is an electronics supplier and offers every year at their booth free coins to play on slot machines, where there is a chance to win USB thumb drives as well as other goodies. Student, who visit the booth on March 1st ("Student Day") can get a free ruler. Also, there is a chance to win a Digi-Key InstaLab Kit – just search for a QR code somewhere near their booth to register for the competition.
Location: Hall 4A, Booth 633
Website: DigiKey @ EW2018
Elektor
Elektor announced on their website that they will be giving away amazing ESP32-PICO-KIT boards! I managed to register myself for one free board, but the registration seems to be closed now. They also removed all information related to this campaign from the page. Still maybe worth to check them out. Elektor subscribers can also get a free gift (a pen-like screwdriver with some exchangable bits): "loyal subscribers … can drop by to say hi and pick up their very own small gift".
Location: Hall 4A, Booth 646
Website: Elektor @ EW2018
Here is the picture of the first day's yield: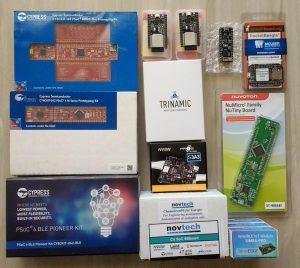 If you have any freebie tips, feel free to share in the comment. Also, keep an eye on the #ew18 tag and on my twitter page. Some goodies could be posted ad hoc during the expo.
---
About the Author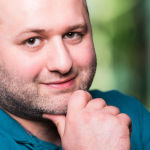 Karen Tamrazyan is an entrepreneur, open-source advocate and web & mobile apps lover. In his free from work time he finds joy and happiness in every little thing together with his family and friends. Karen is a passionate blogger and author, who is eager to learn new stuff and share his knowledge.