Job Search Hacks: Avoid Microsoft
In my humble opinion, anyone who values their time and wants to be efficient at work should avoid using the Microsoft's office infrastructure and tools such as Microsoft Exchange Server, Microsoft Outlook, Microsoft Skype, Microsoft Teams and the whole Microsoft 365 (née Office 365) suite in general.
This doesn't apply if you are a hardcore Microsoft fan or a sadomasochist who enjoys the pain and can't have enough of it.
Before applying to a company you can check the Domain Name System (DNS) records of their main domain name, which they are using for email communication. For this purpose you can either use the websniffer's domain lookup page or any other DNS lookup service of your choice. Try to find among the MX records ("MX" = Mail eXchanger) such words as "exchange" or "outlook".
If you found those words, then the chances are high that the company is forcing all of their employees to use MS Exchange / Outlook for internal and external email communication.
For example let's take the international company Adidas, which is headquartered in Germany. Their domain name is "adidas.com". Let's lookup their DNS records. You'll discover that the mail exchange server is called adidas-com.mail.protection.outlook.com. It's obvious that they are using MS Exchange / Outlook to serve their email communication.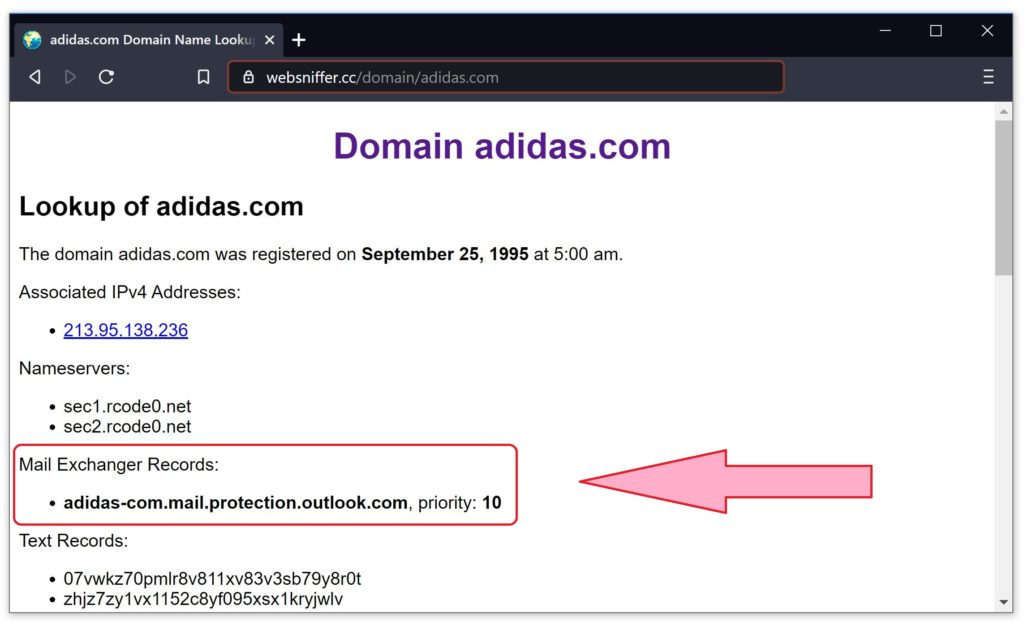 MX record: adidas-com.mail.protection.outlook.com
Sometimes the domain records may look OK and you would apply for a job and get invited to an interview. In the invitation email you might find a Microsoft Teams link. This is a strong indicator that they are on the Microsoft stack. Thank them and write back that you value your sanity and won't be using those MS tools at work. If you want to give them a chance – ask to use a different video conferencing tool or send them your own invite using your fav conferencing tool. However, keep in mind – the chances are low that they'll play this game.
Now, when you know that they are using Microsoft, don't even bother sending an application. However, if it's a company with an amazing, modern and open minded image, you might still want to apply for a job there. If they'll invite you for an interview you can use this chance to ask them about the reasons why they are using the Microsoft stack. It turns out that some companies are in the middle of their migration to a different infrastructure and the things are not that bad. Or it could be that your question will initiate some though process in the company and they'll question internally if there are better alternatives to Microsoft…
What's are the better alternatives to the Microsoft's office stack? Despite I'm not a big fan of another juggernaut – Google, I still find their Google Workspace (formerly G Suite) solution light years ahead of the Microsoft 365. They are the real thing, Microsoft 365 is a (bad) copy.
Another reason to avoid Microsoft and most of their products (maybe only except GitHub) is their lack of ethics and their hypocrisy. Many things have changed since the beginning of the tenure of Satya Nadella as the Microsoft's CEO, but some things haven't changed at all.
Disclosure: This and potentially all other unconventional job search hacks reflect subjective experience and opinions of the author. Your mileage may vary.
Relevant keywords: Job hunting hacks, job hunt hacks, jobsearch hacks, job search tips.